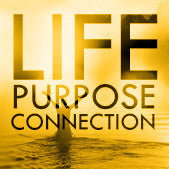 Life Purpose Connection: Find And Live Your Life Purpose, Love What You Do
Experience Your Life Purpose Connection
Life Purpose Connection is a breakthrough home training program that will guide you towards your true destiny so you can live a life of passion, fulfillment and purpose. 
This revolutionary program is filled with brand new tools and exercises, not available on any other program, to invigorate every part of your being with a new sense of direction, meaning and joy.
Life Purpose Connection includes four life-changing downloadable modules (Approx 4 hrs of audio)
Module 1: Defining your life purpose
In this introductory module you'll immediately begin tapping into "Why you are here" and uncovering your own unique purpose. In this module you will:
Discover important clues to your personal destiny. Hint: What you are innately good at and LOVE doing are keys to unlocking a fulfilling future.

Experience your own inner voice and tap into the "knowing" that is inside you.

Learn a quick and easy way to get to the core of your life purpose.

Practice and apply the 'Heart Method' to tap into positive experiences from your past and "program" them into the future.


And much more...
Module 2: The Doorway To Destiny
In this second module you'll step through the 'Doorway To Destiny' so you can discover, once and for all, what your true purpose really is and how to live it:
Get a new, fresh look at your life and expand your consciousness and understanding.
Discover how the events of your past form important stepping stones to guide you onto the right path. A path filled with excitement, with passion and the kind of success that is rich and fulfilling.

Healing realizations and awareness from the highest parts of your being.

A powerful guided technique to stay connected to your source while searching your mind and the universe for answers in this Doorway To Destiny exercise.

The answers to 6 life-changing questions direct from your Higher Self.

A divine gift that will help you fulfill your destiny and bring meaning and richness to your life.


And much more...
Module 3: Create your own GPS for staying on the right path
Knowing where you are going is one thing, but staying on course is another! In this module you will discover: 
How to build your own internal Guiding Purpose System, for staying on course.

How to create your own personal Purpose Manifesto that will act as a compass if you stray of the path.

An incredibly effective "conditioning" process that will give you a shortcut to get motivated or back on track in an instant.


What walking in the snow has to do with your life purpose? A fascinating analogy.
Module 4: Focus and Freedom
In this life-changing module you will learn to develop a laser-like focus and achieve your goals more effectively than ever before.
A programming technique that will help you manifest your goals quicker than ever before.

Set your life course on autopilot and automatically "tune in" to what is most important to you.

Discover the difference between Focus goals and Distracted goals and how they affect your life purpose.

Tap into the Infinite Light that can always help guide your way.


Gain more control over your life.
Order Today & Get The Digital:
Life Purpose Connection
4 Digital, downloadable Modules With Everything You Need To Find Your Life Purpose and Live it!
60 days Money Back Guarantee

Nothing Shipped.


Download the entire digital program and get instant access!!
All Four Modules, for only $89.00! Order Today! 
*Note: If you are downloading on a mobile device, please ensure you have an app that will open zip files (if you don't, just go to your app store and search for a zip file opener, it's normally a free app).
---
We Also Recommend