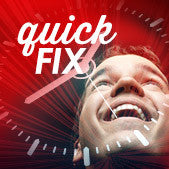 Quick Fix
Change Your State in 7 Minutes. 6 downloadable MP3s.
You can accomplish almost anything when you are in the RIGHT frame of mind. And these six, short mental exercise will help you get into the RIGHT state quickly and easily. Whether you need an energy boost, focus to begin your day, feelings of peace and harmony, a prosperity mind set, to clear your mind after a rough day, or to bring on states of excellence, these audios change your mood and mindset in minutes.
*Note: If you are downloading on a mobile device, please ensure you have an app that will open zip files (if you don't, just go to your app store and search for a zip file opener, it's normally a free app).
---
We Also Recommend